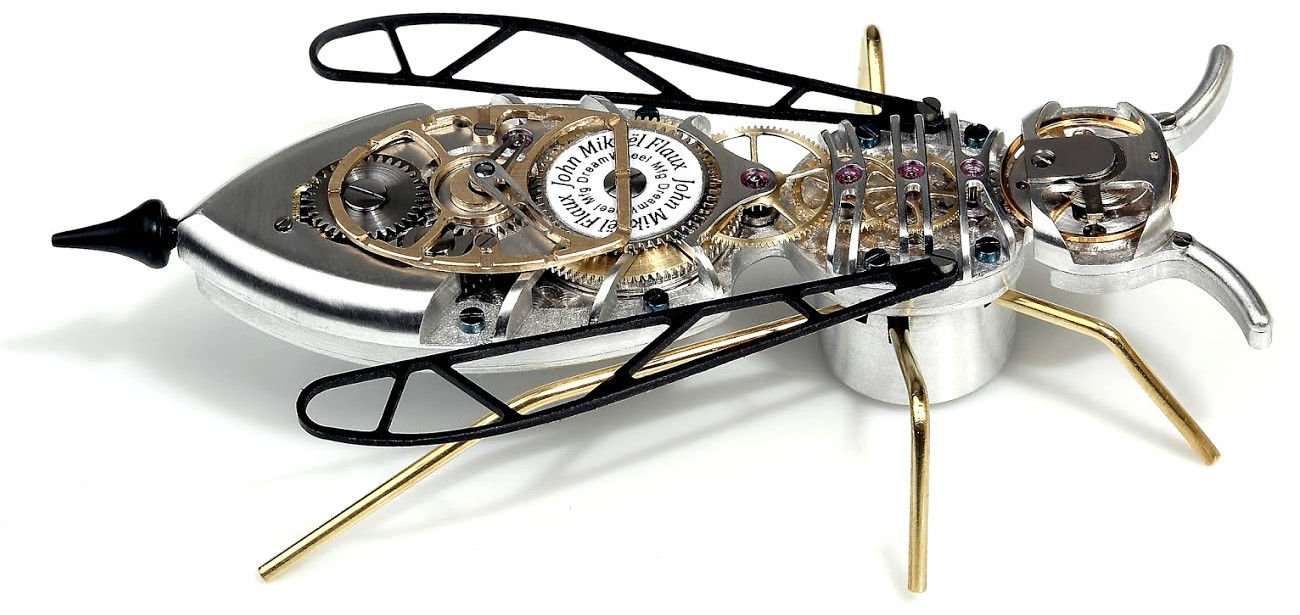 *La Guêpe - 2014
2008
Il débute la création de son atelier.
He begins the creation of his workshop.
2012
Il obtient le prestigieux Diplôme des Métiers d'Art Horloger.
Il est remarqué par la manufacture suisse Ulysse-Nardin
et devient horloger sur montres à grandes complications.
He obtains the prestigious Diploma of the Art of watchmaking «Diplôme des Métiers d'Art Horloger »
He then is noticed by the Swiss manufacturer Ulysse-Nardin and becomes a
watchmaker in the great complications department « grande complications » .
2014
Il crée "La Guêpe"* dont le mécanisme de montre reprend la forme de l'insecte.
He creates "The Wasp" a watch mechanism that embodies the shape of the insect.
2015
Il devient officiellement horloger-créateur attitré de la marque Ulysse-Nardin.
He officially becomes the appointed watchmaker and creator of the Ulysse- Nardin brand.
2016
Il crée pour Ulysse-Nardin l'horloge de table "Super-Catamaran" * s'inspirant des bateaux de course Offshore.
He creates for Ulysse-Nardin the table clock "Super-Catamaran" * directly inspired by Offshore racing boats.
2018
Il installe son atelier en France à Morteau et devient horloger indépendant.
Il se spécialise dans la création de mécaniques artistiques et horlogères.
He sets up his workshop in France, to be more precise in Morteau and becomes an independent watchmaker.
Specialized in the creation of artistic and watchmaking mechanics.
Présentation de la Car Clock
Presentation of the Car Clock
Lauréat National - Artisanat - Concours "Talent Création d'Entreprise 2018" - BGE
Nationnal Winner in Craftmanship Competition " Talent start-up 2018 " - BGE
2019


Installation de l'Atelier à Besançon
Set up of the work-shop at Besançon
Présentation de la

Time Fury P18
Presentation of the
Time Fury P18
2020
Présentation de l'oeuvre "Le Guépard"
Presentation of the work "Le Guépard"
2021
Bientôt dévoilé
Soon unveiled